MV12 Mini máquina de belleza de salón para la eliminación de lesiones de pigmentación & tatuaje con láser Q-Switched Nd: YAG
Product Details
Specification
Before & After
MV12 Mini Q-Switched Nd:YAG Laser Pigment Lesions & Tattoo Removal Skin Rejuvenation Beauty Salon Machine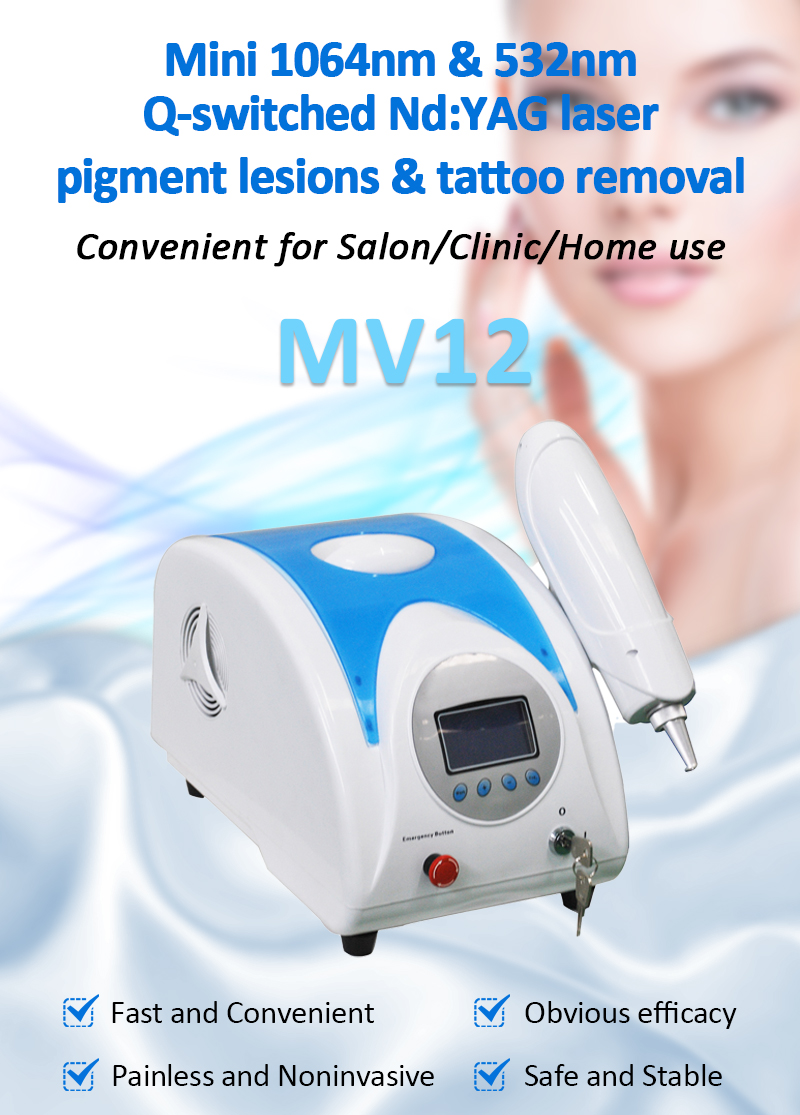 Treatment Theory
The Q-switched Nd:YAG laser radiates the light with a specific wavelength in high peak energy pulses, hence the light penetrates into the tissue only for a nanosecond. The light is absorbed by the pigmentation and results in an instantaneous blast, that is Light blasting principle. The pigmentation particles are shattered into fragments, some can be bounced out of the skin and others can be split into tiny particles that can be engulfed by phagocytes and then eliminated by the lymphatic system.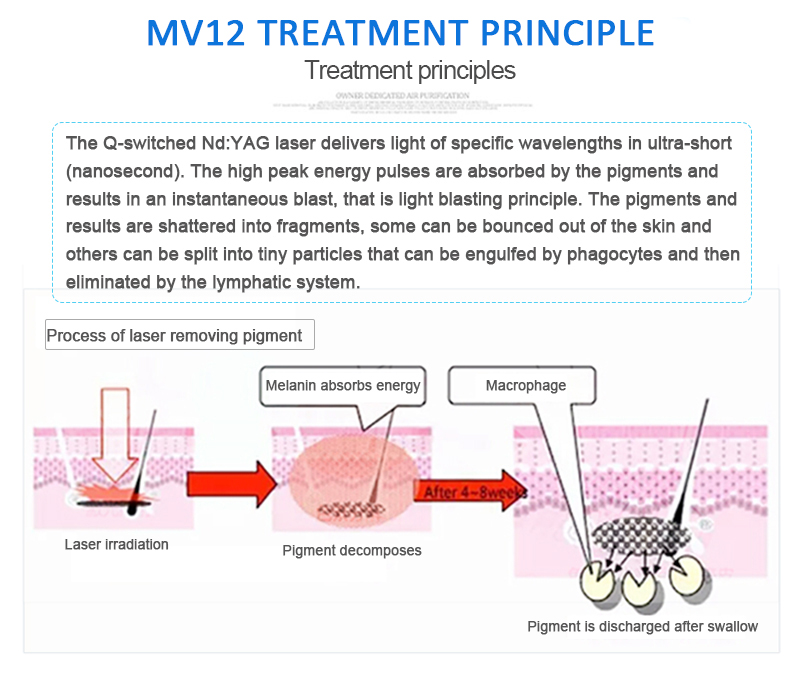 Application
1. Tattoo ( black, brown, red, blue ,etc.) Tattoo eye line,tattoo eyebrow
2. Pigmented lesions : Sunspot ,Age spots, Nevus,Freckle. 
3. Laser facial : Skin rejuvenation , fine wrinkles and expression lines removal, pore firming,lighten spots,oil control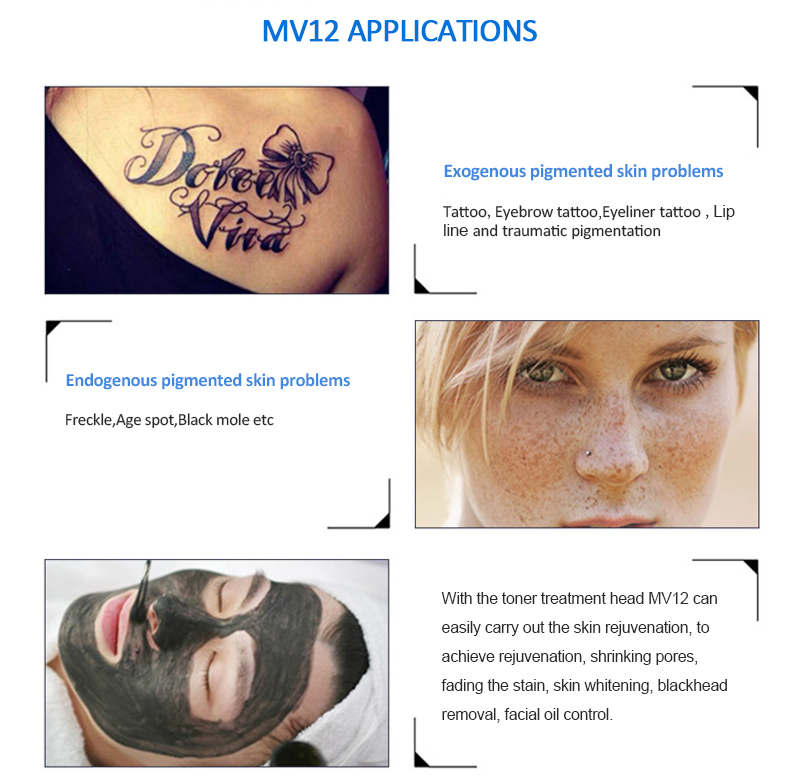 Features & Advantages
1. Small and exquisite design, pretty appearance and easy to carry. (the net weight is only 7kg)
2. Dual-wavelength (1064nm & 532nm) output.
3. The handpiece of ceramic cavity with high temperature resistance,high reflectivity can still work without water in a short period.
4. Anti-knock laser handpiece that can still work even if the handpiece falls down on the ground.
5. Powerful heat radiation system ensure s a long working time.
6. User-friendly designs: malfunction self-check system, compact inner structure , unique water flow switch and new water affusion system etc.
7. Red aiming beam makes operation easy and accurate.
8. OEM for overseas customers.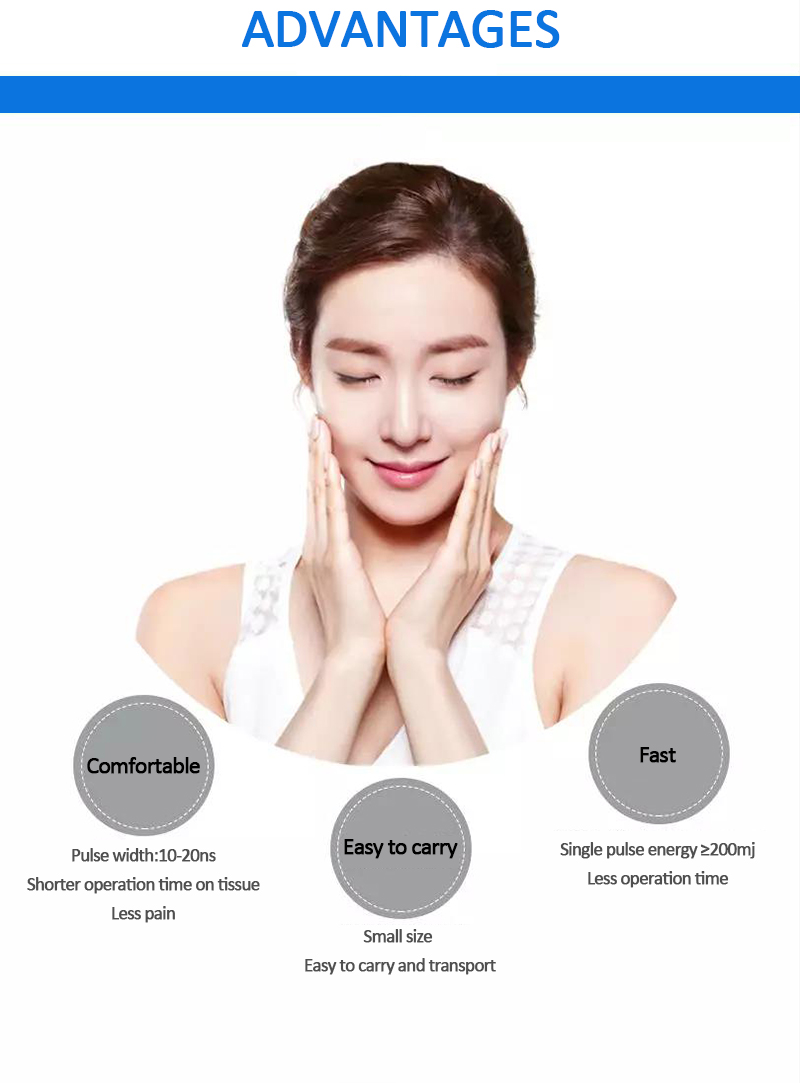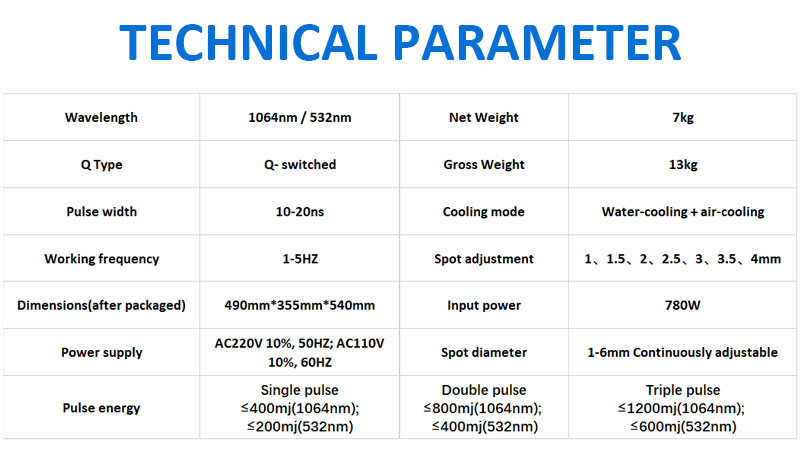 ---
Nombre del modelo: MV12
| | |
| --- | --- |
| Laser-type | MV12 |
| Wavelength | 1064nm / 532nm |
| Q Type | Q-switched |
| Pulse width | 10-20ns |
| Working frequency | 1-5HZ |
| Cooling mode | Water-cooling + air-cooling |
| Spot adjustment | 1、1.5、2、2.5、3、3.5、4mm |
| Input power | 780W |
| Spot diameter | 1-6mm Continuously adjustable |
| Pulse energy | ≤200mj(1064nm);≤100mj(532nm) |
| Net Weight | 7kg |
| Gross Weight | 13kg |
| Dimensions(after packaged) | 490mm*355mm*540mm |